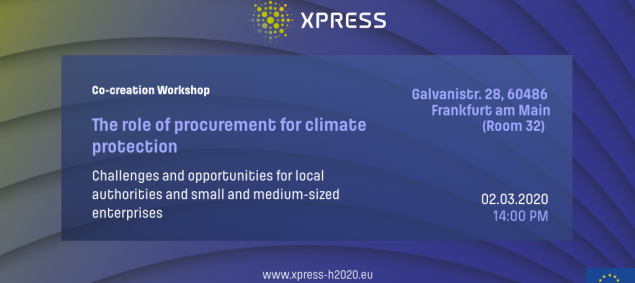 AGENDA
Venue: Galvanistr. 28, 60486 Frankfurt am Main (Room 32)
Registration (Coffee) - 13:30 - 14:00
14:00 - 14:10 - Welcome
Umweltforum Rhein Main (Hans-Georg Dannert, President Umweltforum Rhein-Main e.V.)
Klima-Bündnis (Thomas Brose, Director Climate Alliance)
14:10 – 14:25 - Introduction to the topic and the project XPRESS
Prof. Dr. Dorothea Schäfer (German Institute for Economic Research - DIW Berlin)
14:25 – 15:45 - Keynote Speaches
-The role of procurement in promoting innovation in renewable energy
Dr. Jürgen Hirsch, SIC CONSULTING and 2nd Chairman of Umweltforum Rhein-Main e.V.
-Green public procurement in the promotion of innovations in the field of renewable energies from the perspective of a city
Anja Zeller, Head of Sustainable Strategies, City of Hanau
-Joint tender for green electricity of the district of Marburg with its municipalities
Björn Kajewski, County of Marburg-Biedenkopf
15:45 – 16:00 - Break
16:00 – 16:10 - Methodical introduction to the exchange of experiences
Dr. Andreas Kress (Climate Alliance)
Parallel working groups: The participants will discuss the proposed topics in two moderated parallel groups.
16:10 – 17:00
Parallel session #1:

How can procurement contribute to the sustainable development goals (climate protection, sustainable urban development, promotion of innovation, etc.)?
Moderator: Dr. Andreas Kress (Climate Alliance)
16:10 – 17:00
Parallel Session #2:
How can Green Procurement help to boost the renewable energy market?
Moderator: (Prof. Dr. Dorothea Schäfer, German Institute for Economic Research - DIW Berlin)
17:00 – 17:30
Integration of the results from the parallel groups
The moderators will present the most important findings from the parallel sessions. Integration der Ergebnisse aus den parallelen Gruppen
17:30 – 17:45 - Final plenary discussion on possible policy recommendations
17:45 – 18:00 - Conclusions
Ab 18.00 - Get-together of the participants
Please register HERE.