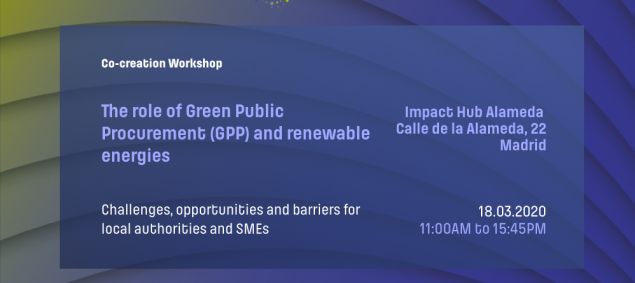 The event was postponed due to the recent COVID-19 outbreak. We'll keep you posted!
Public procurement has a huge potential to promote green, sustainable and low-carbon innovation. Within the framework of the EU project XPRESS, CIRCE and Climate Alliance invite representatives of cities, municipalities and companies to Madrid to jointly discuss the challenges and opportunities of sustainable procurement for local authorities and companies.
Venue: Impact Hub Alameda, calle de la Alameda, 22, Madrid
March 18th, 2020
11:00h - 15:45h
Registration HERE.
AGENDA
11.00 – 11.15 - Registration and Welcome
11.15 – 11.35 - Introduction to the HORIZON 2020 XPRESS project
Riccardo Coletta - XPRESS project coordinator, APRE
Dr. Paola Zerilli - XPRESS scientific project coordinator, University of York, UK
11.35 – 12.40 - Green Public Procurement and climate protection: challenges, opportunities and barriers to overcome:
• City of Madrid; Luis Tejero Encinas, General Subdirectorate of Energy and Climate Change Madrid City Council
• Region of Murcia
• Spanish Confederation of Small and Medium Enterprises (CEPYME) (to be confirmed)
12.40 – 13:00 - Introduction to the parallel sessions (mutual learning)
Lunch Break - 13:00-14:00
Parallel group sessions
14:00 – 14.45 - How can procurement contribute to the sustainable development goals (climate protection, sustainable urban development, promotion of innovation, etc.)?
14:00 – 14.45 - How can Green Procurement help to boost the renewable energy market?
Plenary Discussion
14.45 – 15.15 - Integration of results from the parallel group sessions
15.15 – 15.30 - Final plenary discussion on possible policy recommendations
15.30 – 15.45 - Conclusions of the day – next steps