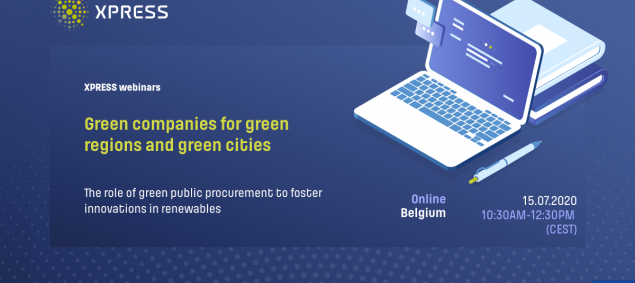 Europe's public authorities are major consumers. It is estimated that 15% of Belgian GDP comes from public procurement. By using their purchasing power to choose eco-friendly goods and services, public authorities play a key role in fostering sustainable consumption and production. This "green purchasing" is what we call Green Public Procurement (GPP). GPP is also a strong stimulus for eco-innovation. In fact, it stimulates a critical mass of demand for more sustainable goods and services which otherwise would not easily get onto the market. But there are also barriers that need to be overcome. For example, it may be difficult for a public authority to find an SME offering the "green" innovative services needed. Conversely, it may be a barrier to SMEs that procurement procedures at regional and municipal level are overly complicated.
The online workshop "Green Companies for green regions and green cities" will gather Belgian regional/local authorities and innovative green companies around the same (virtual) table, as well as EU institutions and international researchers. The goal of this participatory workshop is to jointly discuss and find solutions concerning:
EU and Belgian procurement rules, with emphasis on the terms and conditions for innovative GPP;
Latest international research on green supply;
Barriers and solutions for regional and public authorities involved/interested in GPP;
Barriers and solutions for SMEs involved/interested in GPP.
The online workshop will be participatory, including both the opportunity to ask questions to the speakers, as well as a survey of attendees to collect their input, as it is intended that the outcomes of the workshop will feed into the design of the project.
For registrations please click HERE
Agenda
Wednesday 15th July 2020 – from 10h30 to 12h30
10h30-10h35 – Welcoming, introduction of the workshop
Giacomo FRISANCO, Project Officer, EURADA
10h35-11h00 – XPRESS presentation
Dr Paola ZERILLI, XPRESS scientific project coordinator (University of York)
Miriam DE ANGELIS, XPRESS project coordinator (APRE) – Interactive survey session
11h00-11h20 – H2020 Smart-Met: Pre-Commercial Procurement (PCP) meets Green Public Procurement (GPP)
Jovana GOJKOVIC, Senior Officer of Aqua Publica Europea shares insights into the H2020 project SMART-MET on the use of PCP to support innovation in European water utilities.
11h20-11h25 – Q&A session
11h25-11h55 – Showcase your green solutions
One SME and one public authority from Belgium showcase their best-practices:
Alexandre Scander MAHFOUDH, The Fuel Matrix EMEA
Lies DEBBAUT, Project coordinator for SHIFFT (Interreg 2 Seas)
Bahram VOSSOUGHI, European Managing Partner at Cleantech Flanders.
SMEs (TBC)
Public authority (TBC)
11h55-12h05 – Q&A session
12h05-12h25 – Round table discussion
• How to boost innovations in RES (Renewable Energy Sources) through GPP
• Barriers and possible solutions in the collaboration between Public Authorities and enterprises within GPPs
• How to support policymakers in boosting the RES market through GPP
• Interactions between enterprises and Public Authorities
Before the GPPs take place
During GPP assignment
After GPP assignment
12h25-12h30 – Conclusions of the day and next steps